Johnny Manziel in Trouble for Ditching and Playing Blackjack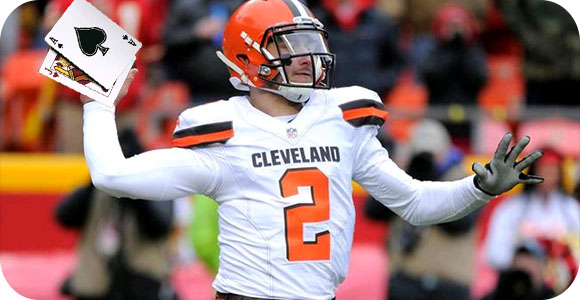 It would seem that sophomore quarterback for the Cleveland Browns, Johnny Manziel is in trouble for ditching the last game of the season. Well, if that was not bad enough, he was at that time spotted in at least one Las Vegas Casino at the blackjack tables. The first round Draft pick hasn't been living up to his potential or the expectations that many had for him, as he has demonstrated time and again with his lack of interest in the game that gave him his millions.
With the recent hiring of the new head coach, Hue Jackson, it was speculated that Manziel's time with the Browns would be short. Sashi Brown, the vice president of football operations, did not confirm whether Manziel, or suspended wide receiver Josh Gordon would get cut from the team. Instead, he told ESPN.com,
"I know a lot's been written about him. What we expect is Johnny to have a good offseason and be ready to go. We're not in any panic to make any decision one way or another on him. He understands what's ahead of him and what he needs to do to have a career in this league and with the Browns."
As many fans of the franchise have already spoken up about Manziel's total lack of commitment and seriousness, the icing on top of the cake would be that no one knew where he was during the last game of the regular season. The team will sit down and discuss things with Manziel "at an appropriate time", but who knows when that will happen.
Manziel has been seen multiple times in Las Vegas playing blackjack, where he has been drunk, and has been seen at the blackjack tables making some big bets with the money gifted to him upon signing the contract. Perhaps he can appear in commercials promoting the great casino card game if he no longer plays football.