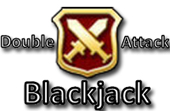 Double Attack Blackjack is a blackjack variation that is offered through several different Las Vegas casinos, including Bally's and El Cortez. Double Attack Blackjack uses eight Spanish decks, which means there are no tens, but face cards are still in the deck.
Double Attack Blackjack is played just like a regular game of blackjack, with the one exception that the order the cards are dealt in is reversed. The dealer will receive the first card, which will be face up. This is when players are given the option to double down based on the dealers up card. There is a general strategy that most players use when playing Double Attack Blackjack:
Double down when the dealer is showing a 2 through 8.
Don't double down when the dealer has a 9, 10 value card, or an Ace.
After making their choice, the rest of the cards will be dealt; two for the player, and one card face-down for the dealer.
Double Attack Blackjack Rules
If the dealer is showing an Ace, insurance is offered; insurance pays 5:2. If they have a blackjack, all players will lose, except for those with a 21, whom will push.
Dealer's will stand on 17.
Blackjacks pay even money.
Players can double down on any two cards, as well as after hitting and splitting.
Splitting is allowed up to four time, with the exception of Aces, which receive only one card.
If a player splits and makes a Double Attack bet, they must make one for each hand.
Surrender is allowed at any time and will lose half of their bet. Players can surrender on one split hand, while the other remains in play.
House edge of Double Attack Blackjack is 0.62%.
This variation of blackjack offers some great options when playing, and the house edge is low enough that players can turn a profit if they use basic strategy.