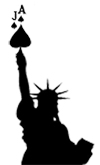 Most Liberal 21 is a rare type of variant, but it is played extremely similar to regular blackjack. The game is played with 8 decks, with about a 5-6 deck penetration. Rules that are the same in Most Liberal 21 and regular blackjack where ties push, the dealer and player get two cards, where the dealer has one card face down.
Liberal 21 Rules
Even though it is played like regular blackjack, there are certain changes in the basic rules that you need to be aware of.
Blackjacks. players that get a blackjack are paid even money, however, if the blackjack is suited, they are paid 2-1. Dealer and player blackjacks are pushed, regardless of suit.
Players may double on their first 2, 3, or 4 cards. This will lead to a different strategy when doubling a 9; hitting and then doubling in case they get a 2.
Players can split their hands an unlimited amount of times, including splitting Aces.
Late surrender is allowed.
If a player receives 6 cards, they automatically win.
Dealer's must hit on Soft 17.
Even though the rules seem to favor the player, the house still gets a nice advantage, as they pay even money on blackjacks. The house edge is 1.33%, which is very similar to to other 6 deck blackjack games, and is better than other blackjack game variants.