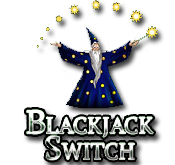 Blackjack Switch is a pretty rare variant, as it is only starting to grow in popularity. In essence, the game is played by taking two seats and playing them both. In other words, you will be playing two hands at a time, each round.
When playing this fun variant, you will encounter some very different playing rules. You may be confused by the way it is played at first, but it is simple enough to grasp after a few rounds.
Blackjack Switch Rules
The overall rules will be the same; same point value, same objective, and the same terms. There will be a few differences that you need to know about:
Players must play 2 hands instead of only one. The player will receive 4 cards, split into two hands.
Players must bet twice, once for each hand.
Players can split cards once, and after splitting Aces, only one extra card will be dealt.
You can double down after you split, and you can double down on any hand.
Dealer has to hit on 17 or less. With a hand of 22, the players will push, unless they have a blackjack; in which case the payout is 1:1.
Players are offered insurance if the dealer is showing an Ace.
You are allowed to switch the second card of each hand. In other words, you can replace the second cards of each hand with each other.
How To Play Blackjack Switch
You play blackjack switch like you would regular blackjack, with the only difference being you can switch the second card. This will really lower your odds of busting, but will also hinder the total amount you can get.
Blackjack Switch Hand Example:
Let's say you are dealt a 7/5 and a 6/10. You switch the second cards in order to get a 7/10 and a 6/5. This allows you to have a 17 and an 11, which are much better options than what you had previously. There you can double down, hit, or stand depending on what card the dealer is showing.
Blackjack Switch is a great game, but the house advantage is slightly worse than regular blackjack, but is much more exciting to play.