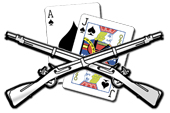 War Blackjack is a simple and very easy blackjack variant. It is a side bet that is placed during a regular blackjack game, so it is more of a side bet rather than an entirely new variation. Players must place a blackjack bet, but the War Blackjack side be is optional.
Players that choose not place the War Blackjack bet may want to play at regular blackjack tables, as this variant can be slightly slower. The different rules may also be less favorable.
How To Play War Blackjack
The dealer gives the player one card, and takes one card for themselves; both of these cards are dealt face up. The War Blackjack side bet will be determined by these two cards. Just like in Casino War, the highest card wins. If the player placed the side bet, then the highest between the player and dealer card will win. Aces are considered low in Blackjack War. The card that is given to the player will also be used as the first card of the blackjack hand.
The house wins all ties in War Blackjack. This method prevents having to deal out too many cards, which could leave the shoe with fewer cards, and change the outcome of the game.
Basic Strategy When Using War Blackjack Winnings
The player that wins the War Blackjack round will have two choices to make with their winnings. The first option is to take your winnings to the bank, as in take it and put it with your chips. The second option is to place your bet on top of the blackjack bet that was placed at the start of the round.
Players should bank their winnings if the dealer is showing a 9, 10 or Ace, as there are higher chances the dealer will win the hand.
Players should bet their winnings if the total between the dealer's card and their card is 11 or more.
One exception is to bet the payout when the dealer is showing a 2 and the player has an 8.
After the player makes their choice, the blackjack round will begin as usual, with the dealer giving the player one card; as the card used during the War Blackjack bet is used as the first card of the round.
The round will be played out like regular blackjack, with the highest ranking hand, without going over 21, winning.