Navigation: Las Vegas Blackjack > Blackjack Shoe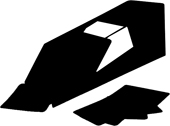 In the past, all of the Las Vegas blackjack games were dealt from a shoe, where the dealer stands on all 17's, and offered player-friendly rules. Regrettably, this does not happen anymore. Blackjack game-play has gone down hill over time, and players have to avoid low paying games in search of better blackjack.
Player's looking for quality shoe games can find them at MGM owned casinos and Treasure Island. The rules let players to double on any two cards, double after splitting, surrender, and re-split Aces. The dealer stands on all 17's in these games, but usually requires a $50 minimum bet. MGM casinos may go as low as $25 during non-peak hours. There may be other casinos with lower minimums.
Low limit players can find $5 and $10 games with the same rules, except for the dealer hitting on soft 17. These games can be found downtown and other casinos.
There are casinos that offer shoe games with six and eight decks, where they pay 6-5 on a blackjack. This gives them an extra 1.39% house edge over a 3-2 odds game. They can mostly be found at party pits, but also at resorts around the Las Vegas Strip. Players may find 3-2 tables right next to 6-5 tables. Players should make sure the tables pay 3-2 before playing.
Las Vegas Blackjack Guides: Single Deck, Double Deck, and Video Blackjack games.
| | | | | | | |
| --- | --- | --- | --- | --- | --- | --- |
| Casino | # of Decks | Min Bet | Max Bet | H/S 17 | # of Tables | 6-5 BJ |
| 4 Queens | 6 | 5 | 500 | H | 1 | No |
| 4 Queens | 6 | 5 | 500 | H | 7 | Yes |
| 4 Queens | 6 | 5 | 500 | H | 5 | No |
| Aria | 6 | 100 | 10000 | S | 14 | No |
| Aria | 6 | 15 | 10000 | H | 11 | No |
| Aria | 6 | 10 | 5000 | H | 1 | No |
| Aria | 6 | 10 | 5000 | H | 17 | No |
| Bally's | 8 | 5 | 2000 | H | 7 | No |
| Bally's | 6 | 10 | 500 | H | 1 | No |
| Bally's | 6 | 5 | 2000 | H | 1 | No |
| Bellagio | 6 | 15 | 5000 | H | 2 | No |
| Bellagio | 6 | 50 | 10000 | S | 6 | No |
| Bellagio | 6 | 25 | 5000 | H | 10 | No |
| Bellagio | 6 | 10 | 5000 | H | 34 | No |
| Binions | 6 | 10 | 500 | H | 2 | Yes |
| Binions | 6 | 10 | 500 | H | 4 | No |
| Binions | 6 | 10 | 500 | H | 7 | No |
| Caesars Palace | 6 | 100 | 50000 | S | 7 | No |
| Caesars Palace | 6 | 10 | 2000 | H | 9 | Yes |
| Caesars Palace | 6 | 10 | 5000 | H | 19 | No |
| California | 6 | 3 | 200 | H | 1 | No |
| Casino Royale | 6 | 5 | 1000 | H | 4 | Yes |
| Casino Royale | 6 | 5 | 1000 | H | 4 | No |
| Circus Circus | 6 | 5 | 1000 | H | 5 | Yes |
| Circus Circus | 6 | 5 | 1000 | H | 5 | No |
| Cosmo | 6 | 100 | 10000 | S | 3 | No |
| Cosmo | 6 | 15 | 5000 | H | 16 | No |
| Cosmo | 6 | 15 | 2000 | H | 3 | No |
| Downtown Grand | 6 | 5 | 2000 | H | 3 | No |
| El Cortez | 6 | 3 | 500 | H | 2 | No |
| El Cortez | 6 | 5 | 300 | H | 1 | No |
| Encore | 6 | 100 | 10000 | S | 4 | No |
| Encore | 6 | 15 | 10000 | H | 27 | No |
| Excalibur | 6 | 10 | 1000 | H | 8 | Yes |
| Excalibur | 6 | 10 | 1000 | H | 14 | No |
| Excalibur | 6 | 10 | 1000 | H | 16 | No |
| Excalibur | 6 | 10 | 1000 | H | 1 | No |
| Flamingo | 8 | 15 | 3000 | H | 11 | No |
| Flamingo | 8 | 10 | 1000 | H | 9 | Yes |
| Flamingo | 8 | 10 | 2000 | H | 12 | Yes |
| Flamingo | 6 | 100 | 5000 | S | 3 | No |
| Fremont | 6 | 3 | 200 | H | 3 | No |
| Golden Gate | 6 | 5 | 2500 | H | 7 | No |
| Golden Gate | 6 | 5 | 2500 | H | 8 | No |
| Golden Nugget | 6 | 50 | 5000 | H | 3 | No |
| Golden Nugget | 6 | 10 | 1000 | H | 1 | No |
| Golden Nugget | 6 | 10 | 2500 | H | 16 | No |
| Golden Nugget | 6 | 10 | 1000 | H | 2 | Yes |
| Harrah's | 8 | 10 | 1000 | H | 9 | Yes |
| Harrah's | 8 | 2 | 2000 | H | 6 | Yes |
| Harrah's | 6 | 100 | 10000 | S | 5 | No |
| Harrah's | 6 | 5 | 500 | H | 1 | No |
| Harrah's | 6 | 15 | 3000 | H | 9 | No |
| Luxor | 6 | 10 | 1000 | H | 5 | Yes |
| Luxor | 6 | 10 | 1000 | H | 1 | No |
| Luxor | 6 | 100 | 10000 | S | 2 | No |
| Luxor | 6 | 10 | 1000 | H | 5 | Yes |
| Luxor | 6 | 5 | 1000 | H | 11 | No |
| Luxor | 6 | 5 | 1000 | H | 2 | No |
| MGM | 6 | 25 | 10000 | S | 10 | No |
| MGM | 6 | 10 | 2500 | H | 2 | No |
| MGM | 6 | 10 | 5000 | H | 19 | No |
| Mandalay Bay | 6 | 200 | 10000 | S | 6 | No |
| Mandalay Bay | 6 | 10 | 5000 | H | 8 | No |
| Mandalay Bay | 6 | 10 | 2500 | H | 1 | No |
| Mandalay Bay | 6 | 5 | 5000 | H | 2 | No |
| Margaritaville | 8 | 10 | 3000 | H | 7 | Yes |
| Margaritaville | 8 | 15 | 3000 | H | 3 | No |
| Mirage | 6 | 100 | 10000 | S | 4 | No |
| Mirage | 6 | 10 | 2000 | H | 14 | Yes |
| Mirage | 6 | 50 | 5000 | S | 1 | No |
| Mirage | 6 | 10 | 2500 | H | 2 | No |
| Mirage | 6 | 10 | 2000 | H | 5 | Yes |
| Monte Carlo | 6 | 5 | 1000 | H | 6 | Yes |
| Monte Carlo | 6 | 10 | 1000 | H | 10 | Yes |
| Monte Carlo | 6 | 100 | 5000 | S | 2 | No |
| Monte Carlo | 6 | 5 | 1000 | H | 9 | No |
| Monte Carlo | 6 | 5 | 1000 | H | 1 | No |
| NY-NY | 6 | 10 | 1000 | H | 1 | No |
| NY-NY | 6 | 10 | 1000 | H | 1 | No |
| NY-NY | 6 | 10 | 1000 | H | 20 | Yes |
| NY-NY | 6 | 5 | 1000 | H | 1 | No |
| NY-NY | 6 | 5 | 1000 | H | 14 | No |
| NY-NY | 6 | 50 | 5000 | S | 3 | No |
| Palazzo | 6 | 10 | 5000 | H | 1 | No |
| Palazzo | 6 | 10 | 2500 | H | 3 | No |
| Palazzo | 6 | 10 | 2500 | H | 2 | No |
| Palazzo | 6 | 10 | 5000 | H | 31 | No |
| Palazzo | 6 | 100 | 10000 | S | 7 | No |
| Palms | 6 | 5 | 3000 | H | 20 | No |
| Palms | 6 | 10 | 2000 | H | 1 | No |
| Paris | 8 | 10 | 5000 | H | 30 | No |
| Paris | 6 | 10 | 1000 | H | 2 | No |
| Paris | 6 | 100 | 10000 | S | 5 | No |
| Paris | 6 | 10 | 500 | H | 1 | No |
| Planet Hollywood | 8 | 15 | 2000 | H | 15 | No |
| Planet Hollywood | 6 | 100 | 10000 | S | 4 | No |
| Plaza | 6 | 5 | 1000 | H | 7 | No |
| Plaza | 6 | 5 | 1000 | H | 5 | No |
| Plaza | 6 | 5 | 1000 | H | 1 | No |
| Quad | 8 | 10 | 1000 | H | 1 | No |
| Quad | 8 | 5 | 1000 | H | 8 | Yes |
| Quad | 8 | 5 | 1000 | H | 6 | Yes |
| Red Rock | 6 | 5 | 3000 | H | 1 | No |
| Red Rock | 6 | 5 | 3000 | H | 13 | No |
| Riviera | 6 | 5 | 500 | H | 1 | No |
| Riviera | 6 | 1 | 1000 | H | 1 | Yes |
| Riviera | 6 | 5 | 1000 | H | 4 | No |
| South Point | 6 | 5 | 1000 | H | 9 | No |
| Stratosphere | 6 | 5 | 1000 | H | 5 | No |
| Stratosphere | 6 | 5 | 1000 | H | 8 | Yes |
| The D | 6 | 5 | 1000 | H | 2 | No |
| The D | 6 | 5 | 2500 | H | 10 | No |
| The D | 6 | 5 | 1000 | H | 1 | No |
| Treasure Island | 6 | 50 | 5000 | S | 2 | No |
| Treasure Island | 6 | 10 | 2000 | H | 16 | No |
| Treasure Island | 6 | 10 | 2000 | H | 4 | No |
| Tropicana | 6 | 5 | 1000 | H | 3 | Yes |
| Tropicana | 6 | 5 | 1000 | H | 10 | No |
| Tropicana | 6 | 100 | 5000 | S | 2 | No |
| Vegas Club | 6 | 5 | 500 | H | 1 | No |
| Vegas Club | 6 | 5 | 500 | H | 9 | No |
| Vegas Club | 6 | 5 | 500 | H | 2 | No |
| Venetian | 6 | 100 | 5000 | S | 3 | No |
| Venetian | 6 | 5 | 500 | H | 1 | No |
| Venetian | 6 | 10 | 2500 | H | 2 | No |
| Venetian | 6 | 10 | 5000 | H | 32 | No |
| Wynn | 6 | 10 | 10000 | H | 36 | No |
| Wynn | 6 | 100 | 10000 | S | 6 | No |