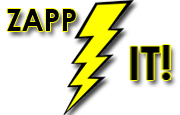 Zappit 21 is a blackjack variant that can be found at various online casinos, including Bovada. This game variant was invented by Geoff Hall, whom also created Blackjack Switch and the push on 22 rule that many blackjack variation use.
A hand of Zappit 21 is played just like a normal blackjack round would be played. The player receives two cards face up, while the dealer has one card face up and the other face down. The Zappit feature allows players to change their original two-card hand when their hand totals 15, 16, and 17. By pressing the "Zap" button, these cards will be discarded and the player will receive two new cards. A good strategy is to always zap hands of 15, 16, and 17 unless you have a pair of 8's against the dealer's 6 or 7. Player's should always zap a 17, regardless of what the dealer is showing.
Zappit 21 Rules
Hands can only be zapped if they are Hard 15, 16, or 17; hands with an Ace cannot use the zap feature.
The dealer pushes the player on a 22. The push will only affect hands that did not bust.
Dealer hits on soft 17.
Six decks are used and shuffled after each hand.
Player's can split up to two times, except for Aces.
Split Aces receive only one card.
Natural blackjacks pays: 3-2.
Zapped blackjack pays: 1-1.
Insurance pays: 2-1.
Surrender is allowed, even after using the Zap feature.
Player's can double down on any two cards.
Player's can double down after splitting.
Zappit 21 offers players many great advantages, and along with the Push on 22 rule, the house edge comes out to 0.98%. This is a much better edge than most other blackjack variants offer.