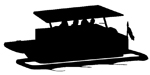 Pontoon originated in the UK, and is quite similar to Spanish 21. Pontoon is played with standard playing card decks, and usually anywhere from two to eight decks are used. As this variant grows in popularity, you might be able to find them easier at offline and online casinos.
Pontoon Blackjack Rules
You would play Pontoon the same way you would regular blackjack, trying to get to 21 or as close as possible, without going over, or beating the dealer. However, there are a few other rules that you need to be aware of before playing.
Hit is referred to as "Twist".
Stand is referred to as "Stick".
Double Down is referred to as "Buy".
Blackjack or 21 is referred to as "Pontoon".
"Pontoon" is paid 2-1.
Both of the dealer's cards are dealt face down. This removes any advantage the players would have.
The dealer waits until the player's have finished before looking at their cards. In the case where a player gets a 21, and the dealer has a natural 21, the player would actually win.
There is no Push; in the event of a tie, the player will lose, except in the blackjack situation.
Player's getting a 5-card hand without busting will automatically win with a payout of 2-1.
Players can "Buy" on any 2, 3, 4 cards. They can only "Buy" once per hand.
Players can "Twist" after a "Buy", but they can only Split twice per round.
The dealer must "Twist" on 17 or lower, and players must "Twist" on 14 or lower.
How To Play Pontoon
Playing Pontoon is easy and fun, and it uses most of the blackjack rules, with a few exceptions, but you will still try to achieve the same goals.
Two cards are dealt to the player, and two cards to the dealer; where the dealers cards are placed face down and will not be looked at until the player's turn is over. The player will then decide to "Twist", "Stick", "Buy", or "Split".
Once the player has finished, the dealer will now look at their cards and see whether they must "Twist" or "Stick". Here you will see which hand has the highest card, 21 or below, and wins the round. In the event of a tie, the player will lose, except if the player and dealer both tie with a blackjack; in which case the player would win.
Pontoon Hand Example
The player is dealt a 6/3, as they have a 3 card they "Buy" and receive a 4. Seeing as how their hand is 13, they must "Twist" hoping to get an 8 to get a "Pontoon".
If the player were dealt equal cards like 4/4 and they decided to "Split", they would have to "Twist" if their hands were 14 or lower. Remember that you can only split up to two times.
You will have to depend on the two cards you are dealt, since the dealers cards are face down. This will add a certain level of difficulty, but if you understand and use basic blackjack strategy, with a few differences, you will be fine. Adding this level of difficulty is what players look for when trying to compete against the house.