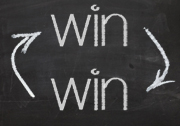 Win-Win Blackjack can only be played online, making it a great blackjack variation to pick. It is distributed by IGT throughout many online casinos in Europe. Out of New Jersey, Betfair is also able to distribute the game.
Win-Win Blackjack is very similar to regular blackjack, with some rules and payout differences. The player and dealer receive two cards, with the player receiving them face up, and the dealer having one face down. The goal is the same as blackjack after this point forward, where the player will try to get to 21 or as close as possible without going over, and beating the dealer.
Win-Win Blackjack Rules
Dealer Stands on all 17's.
Blackjack pays 3-2.
Players can Double Down on any two cards.
Double Down after Split is not allowed.
Players can Split pairs only once, and will receive only one card after splitting Aces; can't re-split Aces.
No Surrender
All bets returned on ties.
Minimum bet: $1.
Maximum bet: $200 – $500, depending on the online casino.
Win-Win Blackjack Bet
The Win-Win Blackjack bet loses if the dealer has a blackjack. It pushes if the player stands before going over 21. The bet will only begin when the player busts.
When a player goes over 21 and busts, the bonus round will start. The round starts with the last card the player received when they busted. Four more cards are dealt. These five cards are used to create a poker hand and is graded based on how good it is.
If a player has split hands and they bust, it will also trigger the bonus round; even if only one of the split hands busts. The Win-Win bet does not need to be doubled when splitting or doubling down. Only the card from the first busted hand will be used in the poker hand if both split hands bust.
Win-Win Blackjack Payouts
Royal Flush: 250-1
Straight Flush: 40-1
Five of a Kind: 30-1
Four of a Kind: 10-1
Full House: 8-1
Flush: 5-1
Straight: 4-1
Three of a Kind: 3-1
Two Pair: 2-1
Pair of Jacks through Aces: 3-2
Pair of 2's through 10's: 1-1
The cards used to create the poker hand use the same rank as in poker, and not the point value given in blackjack.
This is a great blackjack variant that can be found at most online casinos. You can try it for free before playing using the flash version and the free play mode.