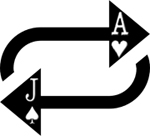 Mulligan 21 is a fairly new variant, with similar rules to blackjack. The dealer and the player each receive two cards, with the dealer having one card face-up. When a player has a blackjack, they will automatically win; they will get paid out even money before the dealer checks to see if they have a blackjack. This is a good advantage for players, as they won't have to push their blackjacks. However, the dealer blackjack will beat all other hands, except for natural blackjacks.
Mulligan 21 Rules
Given its name, Mulligan 21 actually has a few rules that change when compared to blackjack. These make the variant exciting, and gives the player a better overall experience.
Calling a Mulligan. This special rule allows players to discard a face card that has been drawn. It works with King, Queen, and Jack, but the player must keep a 10 card. The card does not have to bust the player in order to be discarded.
For example, if a player has a 12, and draws a Queen, they can refuse that card and accept the next card drawn.
The dealer pushes ALL hands when they have a 17. This means that regardless of what a player has, if the dealer has a hard 17, they will push. Dealers must hit on a soft 17.
This is a fun way to play blackjack, but it does come with a heavy cost to the players. Although the Mulligan rule does benefit the player, it is overshadowed by the fact that blackjacks are paid even money, and the dealer will push all hands on 17. This may allow players to stand on hands ranked 12 through 16, when the dealer is showing a 7, but is a big risk.