Navigation: Las Vegas Blackjack > Single Deck Blackjack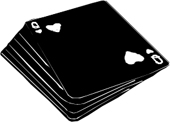 Single deck blackjack is seen as an advantageous game. This is an easy game that card counters like to play, as it gives a better player edge than the other multi-deck games. This is why most casinos have started paying 6-5 on natural 21. Every casino on the Las Vegas Strip pays low on their single deck blackjack games. There are a few casinos downtown that do pay 3-2 odds on their single deck tables.
The D, El Cortez, and Binion's are casinos that pay 3-2 on single deck blackjack. These three casinos use the same rules. Players can only double down on 10's and 11's, and cannot double after splitting. The dealer does hit on soft 17. The game is usually dealt out of a shoe, but players may touch the cards like a pitch game.
The minimum and maximum bets for this game is different between each casino. Riviera is one casino that no longer offers this game.
Single deck blackjack games that pay 6-5 tend to permit players to double down on any two cards, as well as after splitting. These rules do not offset the low pay on blackjacks. The dealer always hits on soft 17 in Las Vegas single deck blackjack.
Las Vegas Blackjack Guides: Double Deck, Shoe, and Video Blackjack games.
| | | | | | | |
| --- | --- | --- | --- | --- | --- | --- |
| Casino | # of Decks | Min Bet | Max Bet | H/S 17 | # of Tables | 6-5 BJ |
| Bally's | 1 | 10 | 2000 | H | 6 | Yes |
| Binions | 1 | 25 | 500 | H | 1 | No |
| Binions | 1 | 5 | 500 | H | 6 | Yes |
| Caesars Palace | 1 | 10 | 2000 | H | 14 | Yes |
| California | 1 | 5 | 200 | H | 2 | Yes |
| Casino Royale | 1 | 5 | 1000 | H | 1 | Yes |
| Circus Circus | 1 | 5 | 1000 | H | 5 | Yes |
| Cosmo | 1 | 15 | 2000 | H | 5 | Yes |
| El Cortez | 1 | 5 | 500 | H | 6 | No |
| Encore | 1 | 10 | 1000 | H | 6 | Yes |
| Flamingo | 1 | 10 | 1000 | H | 5 | Yes |
| Fremont | 1 | 5 | 200 | H | 2 | No |
| Golden Nugget | 1 | 10 | 1000 | H | 1 | Yes |
| Golden Nugget | 1 | 5 | 500 | H | 1 | Yes |
| Golden Nugget | 1 | 10 | 1000 | H | 5 | Yes |
| Harrah's | 1 | 5 | 1000 | H | 5 | Yes |
| MGM | 1 | 10 | 2000 | H | 10 | Yes |
| Main Street Station | 1 | 5 | 200 | H | 1 | No |
| Main Street Station | 1 | 5 | 200 | H | 1 | Yes |
| Mandalay Bay | 1 | 5 | 2500 | H | 4 | Yes |
| Mirage | 1 | 5 | 2000 | H | 6 | Yes |
| Monte Carlo | 1 | 10 | 1000 | H | 2 | Yes |
| Palms | 1 | 10 | 1000 | H | 1 | Yes |
| Paris | 1 | 10 | 2000 | H | 5 | Yes |
| Planet Hollywood | 1 | 15 | 2000 | H | 7 | Yes |
| Quad | 1 | 5 | 1000 | H | 1 | Yes |
| Red Rock | 1 | 5 | 1000 | H | 7 | Yes |
| Riviera | 1 | 5 | 1000 | H | 4 | Yes |
| Stratosphere | 1 | 5 | 1000 | H | 2 | Yes |
| The D | 1 | 5 | 1000 | H | 1 | No |
| Treasure Island | 1 | 10 | 2000 | H | 8 | Yes |
| Wynn | 1 | 10 | 10000 | H | 5 | Yes |