Navigation: Las Vegas Blackjack > Double Deck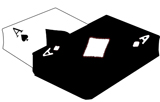 You can find some of the best double deck blackjack games in the country in Las Vegas. Player's that want to play double deck blackjack games will need a big bankroll. The best games can be found at Aria, Bellagio, Mirage, MGM Grand, and Treasure Island. The reason is that it allows players to double down on any two cards, after splitting, and the dealer will stand on all 17's. The disadvantage is that the minimum bet is high, anywhere from $50 to $100, and can even get up to $500 like at the Wynn.
Plays looking for low limit tables can find them at Green Valley Ranch, Red Rock, and other Station Casino properties. The rules allow players to double down on any two cards, double after splitting, and can re-split Aces. The dealer hits on soft 17. Players can find minimum bets between $5, $10, and $25 and these player-friendly rules at El Cortez, Mandalay Bay, and MGM owned casinos.
Other casinos, such as Caesars Entertainment properties, have less friendly rules for players. These include, no double down after splitting, and no re-splitting Aces. There are other casinos in Las Vegas that offer double deck games with similar rules, but may have lower minimum bets.
Las Vegas Blackjack Guides: Single Deck Shoe, and Video Blackjack games.
| | | | | | | |
| --- | --- | --- | --- | --- | --- | --- |
| Casino | # of Decks | Min Bet | Max Bet | H/S 17 | # of Tables | 6-5 BJ |
| 4 Queens | 2 | 10 | 500 | H | 1 | No |
| Aria | 2 | 25 | 10000 | H | 4 | No |
| Aria | 2 | 50 | 10000 | S | 7 | No |
| Bally's | 2 | 25 | 3000 | H | 1 | No |
| Bellagio | 2 | 100 | 10000 | S | 6 | No |
| Binions | 2 | 25 | 500 | H | 2 | No |
| Caesars Palace | 2 | 500 | 10000 | H | 1 | No |
| California | 2 | 5 | 1000 | H | 15 | No |
| Circus Circus | 2 | 5 | 1000 | H | 2 | No |
| Cosmo | 2 | 25 | 5000 | H | 4 | No |
| Cosmo | 2 | 10 | 2000 | H | 7 | No |
| Cosmo | 2 | 200 | 10000 | H | 4 | No |
| Downtown Grand | 2 | 25 | 1000 | H | 1 | No |
| El Cortez | 2 | 25 | 1000 | H | 1 | No |
| Encore | 2 | 50 | 10000 | H | 2 | No |
| Flamingo | 2 | 25 | 3000 | H | 3 | No |
| Fremont | 2 | 5 | 1000 | H | 7 | No |
| Golden Nugget | 2 | 25 | 2500 | H | 3 | No |
| Golden Nugget | 2 | 25 | 5000 | H | 2 | No |
| Harrah's | 2 | 25 | 3000 | H | 3 | No |
| Luxor | 2 | 25 | 5000 | H | 1 | No |
| MGM | 2 | 100 | 10000 | S | 2 | No |
| Main Street Station | 2 | 5 | 1000 | H | 10 | No |
| Mandalay Bay | 2 | 200 | 10000 | S | 6 | No |
| Mandalay Bay | 2 | 10 | 5000 | H | 5 | No |
| Mirage | 2 | 25 | 3000 | H | 3 | No |
| Mirage | 2 | 50 | 5000 | S | 2 | No |
| Monte Carlo | 2 | 100 | 5000 | S | 2 | No |
| NY-NY | 2 | 25 | 2500 | H | 2 | No |
| NY-NY | 2 | 50 | 5000 | S | 2 | No |
| Palazzo | 2 | 50 | 5000 | H | 4 | No |
| Palms | 2 | 25 | 3000 | H | 2 | No |
| Paris | 2 | 25 | 3000 | H | 2 | No |
| Planet Hollywood | 2 | 25 | 5000 | H | 2 | No |
| Red Rock | 2 | 5 | 5000 | H | 7 | No |
| Riviera | 2 | 25 | 2000 | H | 1 | No |
| South Point | 2 | 5 | 1000 | H | 17 | No |
| Stratosphere | 2 | 25 | 1000 | H | 1 | No |
| The D | 2 | 5 | 2500 | H | 1 | No |
| Treasure Island | 2 | 10 | 3000 | H | 3 | No |
| Treasure Island | 2 | 50 | 5000 | S | 2 | No |
| Tropicana | 2 | 100 | 5000 | H | 1 | No |
| Vegas Club | 2 | 5 | 500 | H | 1 | No |
| Venetian | 2 | 200 | 10000 | S | 1 | No |
| Venetian | 2 | 25 | 2000 | H | 3 | No |
| Wynn | 2 | 500 | 10000 | S | 8 | No |