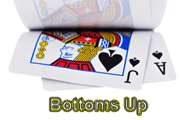 Bottoms Up Blackjack is played just like regular blackjack, with the exception that all the cards that are dealt are facing upwards; this would include both of the dealer cards. There are other rules that make this variation more exciting and difficult.
Some of the rules that are used are:
Blackjack pay even money; 1:1.
A player will not push on a blackjack. Even if the dealer gets a blackjack after the player gets one, the player will still receive even money.
All other winning hands pay 1:1.
Players will lose all Push hands. In other words, if the player and dealer both have 19, the player will lose. This forces the player to take a hit and try and get a favorable card.
Players can only double down on 10 or 11. Doubling down after a split is not allowed.
Players can split cards, and can only split face cards if they are the same; can split two Queens, but not a Queen/Jack. Split aces will only receive one card each.
The dealer will hit on Soft 17.
There are several different variations of this blackjack game that you can find at various online and offline casinos. Some offer them with slightly different rules, but the general game play is the same.