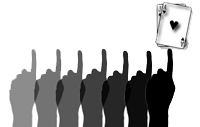 Player's Choice 21 is a variant that combines blackjack and Three Card Poker. The player will make three equal bets during any given round, two of the bets will be for two blackjack hands, while the third bet is placed on the Three Card Poker hand. The poker hand is comparable to Pair Plus, which is the usual bonus bet in Three Card Poker. The way Player's Choice 21 is played is quite simple.
How To Play
The dealer will give the player 3 cards to start their hand, which are used for Three Card Poker, as well as their blackjack hands. The payouts are based on the hands the player gets:
AKQ Suited: 75-1
Three of a Kind (Suited): 60-1
Straight Flush: 20-1
Three of a Kind: 10-1
Straight: 2-1
Flush: 3-2
Pair: 1-1
Once the Three Card Poker side bet is taken care of, the player can move on to the blackjack portion of the game. One of the cards dealt is placed on blackjack hand #1, the second card on blackjack hand #2, and the third card is placed in between both cards. This middle card will be used for both hands.
The rest of the round is played with regular blackjack rules:
Blackjacks pays: 3-2
Dealer stands on 17
Player can double any 2 cards
Double after split is allowed
Split up to 4 hands
Aces can be split only one time, with only one card dealt
Surrender is not allowed
Insurance is offered when dealer is showing an Ace
These rules are very player friendly, as it offers the same payout as regular blackjack. This would be a great game for those wanting to play multiple hands.