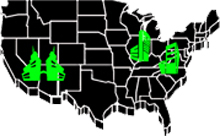 The USA in known for its great casinos in Las Vegas and Atlantic City, as these are the most popular places to gamble. On top of these, the United States also has a great variety of casinos in almost all of its States, which offer one from or another of blackjack games. Each State has its own rules regarding its casinos, as well as the games it offers, including blackjack. There are four basic categories that the casinos fall under, Nevada casinos, Atlantic City casinos, Indian Casinos, and Racinos. Each category represents what a player can come to expect to find in each State.
Nevada Casinos
The first category of casinos are the Nevada casinos, which include Las Vegas and Reno casinos. This is a special place in the USA, as the gambling rules and regulations here are much more relaxed and open, which is why there are so many options for players to pick from. All of these casinos are considered to be Class III, which allow them to offer machine and table games, as well as being able to payout more than $5,000 per player session. For those that want to find the best variety in rules, as well as blackjack games can certainly find them at the Nevada casinos.
Atlantic City Casinos
New Jersey, home of the Atlantic City casinos, is a second category of casinos. These follow the same pattern as the Las Vegas casinos, having more open regulations on their gambling; with the exception of sports wagering. They are also considered Class III casinos, where they are allowed to operate at a higher standard. However, in recent years, due to many factors, Atlantic City casinos have been in a decline, possibly because of the expansions of casinos throughout the USA. Either way, players will be able to find and play blackjack at any of the great casinos still around.
Indian Casinos
Indian casinos are run by Native American communities, whom have been given special permissions granted by each State, or the Federal Government, to operate legally. Most of the Indian casinos are Class II, however there are a few exceptions that have gone on to getting gambling licenses and become Class III. At the Class II Indian casinos, players will be able to find a range of video casino games, including video blackjack. For those looking for blackjack tables, they would need to go to a Class III Indian casino.
Racinos
Racinos are the fourth kind of casinos that players can find throughout the United States, and is a special kind. The idea came about in 2003, as horse racing and dog racing have been in a decline, so many race track owners decided to adapt. The way they were able to improve was by combining the race track with a casino, becoming a Racino. These racinos are Class II, meaning they can only offer machine and video gambling, such as slots; in some cases they have been given special permission by their State to allow video poker and video blackjack. Players looking to play video blackjack games, but also be able to bet on a horse race, should definitely go to a Racino.
United States Casinos
You can find all of these casinos throughout the USA, so check out how many casinos each State has, and if they offer blackjack games:
| | | |
| --- | --- | --- |
| STATE | # OF CASINOS | OFFER BLACKJACK |
| Alabama | 3 | No |
| Arizona | 22 | Yes |
| Arkansas | 2 | Video Blackjack Only |
| California | 149 | Yes |
| Colorado | 50 | Yes |
| Connecticut | 3 | Yes |
| Delaware | 4 | Yes |
| Florida | 35 | Yes |
| Georgia | 2 | Yes |
| Idaho | 5 | Yes |
| Illinois | 10 | Yes |
| Indiana | 13 | Yes |
| Iowa | 22 | Yes |
| Kansas | 8 | Yes |
| Louisiana | 28 | Yes |
| Maine | 2 | Video Blackjack Only |
| Maryland | 6 | Yes |
| Massachusetts | 3 | Yes |
| Michigan | 26 | Yes |
| Minnesota | 20 | Yes |
| Mississippi | 37 | Yes |
| Missouri | 14 | Yes |
| Montana | 9 | Video Blackjack Only |
| Nebraska | 4 | No |
| Nevada (Las Vegas.) | 222 | Yes |
| New Jersey (Atlantic City) | 8 | Yes |
| New Mexico | 28 | Yes |
| New York | 20 | Yes |
| North Carolina | 2 | Yes |
| North Dakota | 6 | Yes |
| Ohio | 11 | Yes |
| Oklahoma | 97 | Yes |
| Oregon | 9 | Yes |
| Pennsylvania | 12 | Yes |
| Rhode Island | 2 | Video Blackjack Only |
| South Carolina | 1 | Yes |
| South Dakota | 40 | Yes |
| Texas | 1 | Video Blackjack Only |
| Washington | 31 | Yes |
| West Virginia | 5 | Yes |
| Wisconsin | 20 | Yes |
| Wyoming | 4 | Yes |
There are certain reasons that casinos may not offer blackjack, or only offer video blackjack:
Casinos may be Class II, where they can offer race bets, and limited video gambling including slots, video poker, and video blackjack. This would include some Indian casinos, as well as privately held casinos.
State Laws that prohibit games that rely at least 50% or more on luck.
States that have not legalized gambling, so players would not even find any casinos.
Gambling Classes
So players can understand what we mean when we say Class II or Class III casinos, this guide will inform you what each class means:
Class II Gambling
Prizes for one session cannot exceed $5,000
Can only be run by a society
The proceeds must be used according to authorized purposes
Consumer information must be clearly described at point of sale
Does not need a License
The gambling must follow relevant game rules
Examples: Race betting, Horse or Dog. Video gambling devices including Slots, Video Blackjack, Video Poker, etc. (no live table games). Lotteries.
Class III Gambling
Prizes for one session can exceed $5,000
Can only be run by a society
The gambling activity must comply with relevant game rules
Does not have to solely be a gaming machine
The Department of Internal Affairs must be satisfied with operations and money management
The purpose must be to raise money for an authorized purpose
Must have a License
Examples: Machine games including Slots, Video Blackjack, Video Poker, etc. Table games including Blackjack, Poker, Roulette, Craps, etc. Sports gambling; only in States that allow this activity.