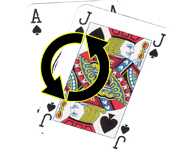 Change It 21 is one of the newer blackjack variants that have recently come out, as it was only tested and debuted in September of 2014; this particular game is owned by Change It Up, LLC. The game is played from a six-deck shoe, and is played just like regular blackjack would, with two cards being dealt to each player, with two cards dealt to the dealer with one facing down. Blackjacks are paid out, or pushed if the dealer also has a two card 21. Insurance is offered as always, with the possibility for the player to take even money.
Change It 21 and Blackjack Differences
The main difference when playing Change It 21 from regular blackjack is that you get the option to replace one of the two cards in your hand. This is where the feature "Change It" is used. It is not free, as the player must pay a fee of 50% of their original bet to switch the card. For example, a $10 bet would require $5 to change the card; the $5 bet goes straight to the dealer's tray.
The player is not required to use this feature, as they can choose to stay with their original cards and avoid paying the fee.
For the players that decide to change a card, they would tell the dealer which card. The card is placed in the discard pile and the next card in the shoe is dealt. This card must be kept and will be used in their final hand. IF the replaced card gives the player a blackjack, it is paid out immediately. The dealer would have already checked their hole card to ensure they do not have a 21.
Hands that are split can also use the change it feature, and the fee also applies here. The player cannot exchange their original cards that were split, only the additional card that was dealt to them. The player can change the card for both split hands if they decide to do that.
The rest of the round is played as normal, where highest hand without going over 21 wins, ties are pushed.
Change It 21 Rules
Dealer hits on Soft 17.
Blackjack Pays 6:5.
Double down on any two cards, including after changing a card.
Double down is not allowed after splitting.
Surrender is not allowed.
Player's can only split Aces once, where they are allowed to exchange the new card for the fee.