Blackjack Tables Hosted By Frank Marino and The "Divas Las Vegas"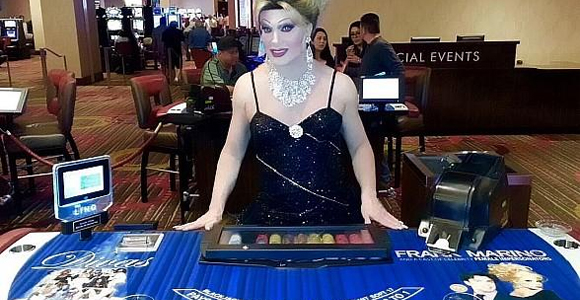 With the popularity of "Queen of the Strip", and its headliner Frank Marino, it seems the LINQ Hotel and Casino has decided to introduce the "Divas Las Vegas" blackjack tables, among other themed gaming. This will certainly boaster not only the LINQ, but also Frank Marino.
Marino, a superstar female impersonator, will now have his face plastered on those six blackjack tables, as well as giving the Divas a chance at dealing the cards. This is a big step up from having his face on a $25 chip and a Big 6 betting wheel.
This may be the start of other casinos taking on popular Vegas, local celebrities and making them a part of their gambling. We may see an influx of blackjack and other tables having their faces, as well as the dealers being a part of the overall theme.
Check out the press release at: VegasNews.com.