Play Blackjack While In The Pool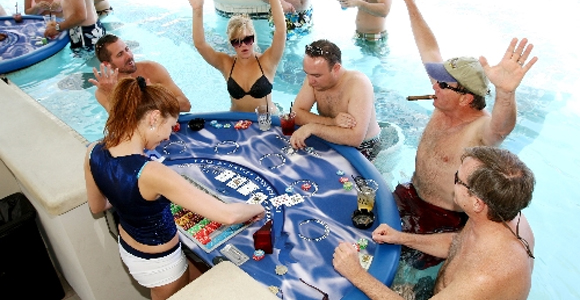 Playing blackjack can be a lot of fun, but there are certain Las Vegas casinos that have taken that enjoyment to the next level. Being able to be in a relaxed environment, enjoying yourself is the perfect spot to have a table, dealer, and a few decks of cards.
This is why at Caesars Palace, Hard Rock, and Tropicana are leading the pack with their innovative poolside blackjack games. With the amazing weather that Nevada gets most of the year, a pool is the most popular place to be, other than the casino floor. So, they decided to fit their pools with a table, so that patrons can play even while relaxing in the pool.
There are a total of 12 casinos in Vegas that you can enjoy a quick game at the pool, so you might as well enjoy a bit of sun and water as you take the houses money. Most of the games are low odds, perfect for those players that simply want to play a few rounds before getting a tan.
I am quite sure the cards, table, and even the live dealer are water proof. So, to see which other casinos have these poolside blackjack games, check them out here.